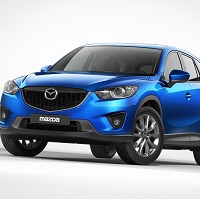 The new Mazda CX-5 has been recognised with the best available safety level of five stars from Euro NCAP.
The car has been available to buy in the UK for only a few weeks, but the compact crossover SUV gained the best possible ratings in every one of the four safety areas.
The CX-5 gained grades of 94% for occupant protection, 87% for child occupant protection and 86% for safety assist systems. The threshold grading required for top safety marks are 80%, 75% and 60% respectively.
Euro NCAP instigated a better pedestrian protection threshold in 2012 so that cars have to now gain a minimum of 60%.
This makes the CX-5 the third Mazda to gain a maximum five stars for safety since the latest criteria was brought in back in 2009. The Mazda3 and Mazda6 also earned maximum safety ratings.
The CX-5 is the first of the latest generation of Mazdas and also the first to include the latest SKYACTIV body.
Copyright Press Association 2012