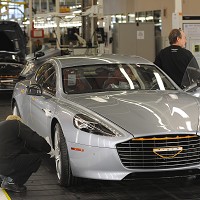 Luxury automaker Aston Martin's new warehouse and logistics hub has finally opened almost a year after construction began.
The British company sees the Wellesbourne facility - located just down the road from its headquarters in Gaydon, Warwickshire - as a major cog in its bid to further expand its operation in the coming years.
It boasts nearly a quarter of a million square feet of storage, operations and office space, making it the largest storage and distribution base in the manufacturer's 102-year history.
Around 40 new jobs have been created, with 90 employees on the books at the site in total.
Aston Martin manufacturing operations director Keith Stanton describes the new facility as a vital part of its Second Century Plan.
The site will function as a centralised warehouse for deliveries from suppliers and provide a steady stream of production-critical materials for use in the company's global manufacturing base at nearby Gaydon.
It will ensure the right materials are in the right place at the right time, as a production increases to meet demand.
Mr Stanton says the team at Wellesbourne will help deliver an exciting new generation of Aston Martin sports cars.
The state-of-the-art hub has secured a 'very good' environmental rating after it was laid out and constructed to demanding environmental standards.
Copyright Press Association 2015