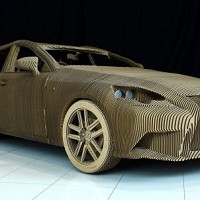 A full-size executive saloon car crafted from cardboard has gone on show.
The "origami" car, which is based on the Lexus IS, was made in three months and went on display at NEC Birmingham's Grand Designs Live Show today.
Lexus says its highly skilled workforce - or takumi - makes vehicles from the paper-folding technique to help them improve their skills.
This prompted Lexus to get the cardboard car commissioned to pay homage to the special "human craftsmanship" the company says is behind every one of its models.
The car has been built from 1,700 10mm-thick cardboard panels, which have been pasted together with a quick-drying water-based adhesive.
This meant London-based design firm Lasercut and Scales & Models had only 10 minutes in which to precisely position each section before the panels dried.
They produced the exhibit with the help of an IS 3D model using nothing else but a steel frame base and the cardboard segments.
The "origami car' is being exhibited at the Grand Designs Live Show at NEC Birmingham until Sunday (October 11).
It has fully functioning lights, the doors open and close and the interior is also something of a sight to behold. Tickets for the show, which features latest home and decor trends, can be bought from the Grand Designs Live website.
Copyright Press Association 2015