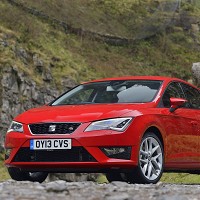 Spanish car manufacturer Seat is thanking a stronger-than-expected interest in its new Leon model, for posting record sales figures in April.
Sales exceeded expectations across the whole Seat range, including the Toledo, Alhambra, Ibiza, Altea and Exeo. This helped the firm reach 3,983 sales in April, an impressive 33% increase on the same period on 2012.
The company's market share reached 1.9% in 2012, which in itself was a brand record, but management are cautiously optimistic that these current trends may help them beat that.
Around a quarter of the Seat sales in April were attributable to the new Leon, and the increased interest could be due to the new technology it offers.
A discount rate offer has increased take-up of the optional full-LED headlights, as these have been ordered on 79% of the vehicles SE and FR models. Also, the Leon Technology Pack, which Seat breakdown to include the LEDs with satellite navigation and a DAB digital radio, is still being offered for £500 instead of the standard £1,075.
Another indication that Seat is performing well above average is the doubling of the company's corporate order 'take' in the last month. Seat are extremely pleased with these results, particularly given that the UK car market is currently the only one in Europe to be growing strongly.
Copyright Press Association 2013