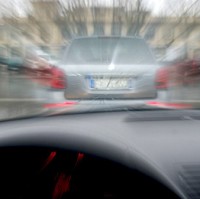 Anti-social driving practices such as hogging the middle lane and tailgating are not being punished enough, official figures suggest.
Last August tailgating and other "careless driving" offences were made punishable by a £100 fixed penalty and three driver licence points, but figures show few motorists are being pulled up on the habits.
Crime records from 17 of the country's police forces show there have been just 54 cases of drivers being penalised for tailgating in the eight months since the new laws were brought in. The figures were obtained by The Telegraph under the Freedom of Information act.
RAC head of external affairs Pete Williams said: "The behaviour of other road users is a major concern to UK motorists - our own research shows the top three causes of stress while driving are all related to how others act at the wheel.
"When the new fines were introduced we raised the question of how traffic police would be able to enforce this law practically so it isn't really much of surprise that so few motorists are being fined. Ultimately, these issues are down to individuals taking responsibility for not 'hogging' or tailgating and making driving on our highways a better experience for all and fining drivers is one part of the solution as it forces people to think more about how they use motorway lanes if they want to avoid a £100 penalty."
Forces also seem to be struggling distinguishing "poor lane discipline" from hogging the middle lane, as only 21 fines have been served since August.
When the new rules were announced, the Police Federation also warned that they would be "unenforceable".
Several forces which responded to the Freedom of Information request only had one recorded case of a fine being handed out for tailgating.
Other examples of careless driving include eating or drinking at the wheel and overtaking on the inside lane
Copyright Press Association 2014