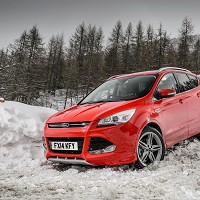 One of the most popular sports utility vehicles (SUV) on the market has just got even better.
The latest Ford Kuga SUV not only boasts upgraded in-car tech, but better engines too. Ford SUV fans looking to buy a car may be tempted by a raft of new kit improvements.
Owners will be able to activate their in-car apps by voice control, whether Radioplayer, Glympse, Spotify or Audioteka, leaving them to concentrate on the road ahead.
Tech safety features include early alerts if substantial tyre pressure is lost during a trip and warnings sounded if motorists drive too close to the car ahead.
Technologies also available include Driver Alert and Hands-Free tailgate.
The diesel version engine upgrades are equally impressive. Its horsepower is boosted by more than 10% to 180, while this 2.0-litre motor also emits less CO2.
In addition, the petrol version reduces emissions to 154g/km from the previous 143g/km, benefiting from a new 1.5-litre unit.
Copyright Press Association 2014