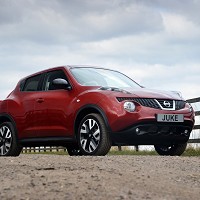 Nissan has unveiled a new model for its Juke crossover range.
The Juke N-Tec is based on the Acenta Premium model but comes with added extras such as 18-inch black and silver alloy wheels and the latest Google technology inside.
There will be one diesel and two petrol engines to choose from, as well as a 1.6-litre DIG-T option with Nissan's 4x4i four-wheel drive.
There are gloss black B-pillars and door mirrors while inside the N-Tec there is a gloss black centre console and door trim.
The Nissan Connect system, controlled by a 5.8-inch touch screen, features some of the latest technology, including satellite navigation and Bluetooth connectivity, as well as the Google's Send-to-car innovation, which allows drivers to plan their route and send it to the car before they leave the house. Google's Points of Interest database allows users to find local amenities and attractions while weather forecasts, local fuel prices and flight information are available.
The Nissan Juke N-Tec is on sale now starting from £16,295. Read our Nissan Juke review for more information on the technology and drive behind the mini-SUV.
Copyright Press Association 2013
Caption: The Nissan Juke has proved a popular car