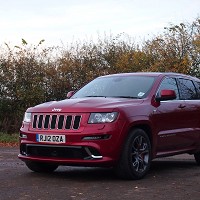 The new Jeep Cherokee is getting into shape for spring.
Out goes the old chunky look of previous Cherokee models.
In come smooth sides and a sharply sloping bonnet, along with 'quad' headlights, slim upper lights and smaller, deeper lights underneath them.
The familiar seven-slot front grille remains, but car viewers will notice a slimmer look to the new Jeep Cherokee, which has been revealed prior to its official debut at Wednesday's New York Auto Show (March 27).
The new model goes on sale here early next year, the first Cherokee available in the UK for three years.
If you're itching to take outcar insurance , MOT and road tax on this model before then, it can be bought in the US this autumn.
The upgraded Cherokee is constructed on a version of the platform that's used for the Alfa Romeo Giulietta and US Dodge Dart.
It is not yet certain whether all models will get four-wheel drive, nor have any technical details been divulged.
Jeep simply describes it as a "no-compromise" version which will be made Chrysler Group's factory in Toledo, Ohio, adding that fuel economy will be improved by more than 45% over the previous Cherokee.
Copyright © Press Association 2013