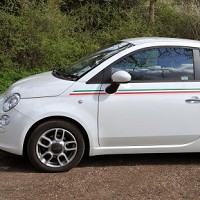 James Bond has reportedly traded in his trademark Aston Martin DB5, in favour of a far more modest Fiat 500.
Motorists buying a car who want the bragging rights of saying they own a Bond vehicle can now set their sights a little lower.
Daniel Craig will next be seen as 007 driving the Italian car in a chase around Rome, with filming for the hitherto unnamed movie set to take place from next February to March.
The Italian press reports that Bond's Fiat 500 ends up being crushed as it approaches the Vatican.
Craig's previous on-screen car met a similarly fatal full stop when it was exploded in Skyfall.
The DB5 debuted in 1964 for the third Bond movie, Goldfinger. It also featured in Craig's first film, Casino Royale.
The first James Bond picture, Dr No (1962) saw Sean Connery behind the wheel of a convertible Bel Air from Chevrolet.
Copyright Press Association 2014