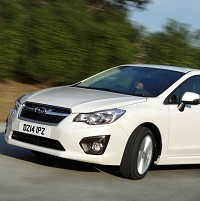 A new incarnation of Subaru's most famous model will be on sale from 1 May.
The new Impreza will come in the form of one, non-turbo 1.6-litre engine and one trim level with a choice of transmissions.
The new Impreza RC will start at £17,495 for five-speed manual models while Subaru's Lineartronic transmission will cost an extra £1,500. All-Wheel Drive (AWD) will come as standard on every car.
First introduced in 1992, the Impreza has developed a strong following, with fans favouring the Symmetrical AWD system and four-cylinder horizontally-opposed Boxer engines which make the car so exciting to drive.
While Subaru has kept these attributes, they have redeveloped the new-generation 1.6-litre Boxer petrol engine, as well as improving safety and fuel efficiency aids.
The 1.6-litre engine produces 114ps and 150Nm of torque. It has cooling circuits for the cylinder block and cylinder head, meaning the engine warms up quicker and reduces friction and improves fuel economy.
Copyright Press Association 2014