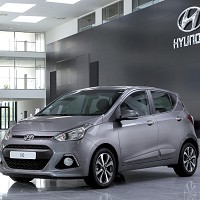 Car manufacturer Hyundai hopes to build on the success of its popular i10 with a new model which boasts extra features.
The New Generation i10 has been designed, engineered and manufactured "in Europe, for European buyers."
Hyundai claims to have bought class-leading space, levels of comfort and safety to the new i10 from its more established models.
The original i10 was named 'Best city car less than £9000' at the What Car?Car of the Year 2013 awards (UK) as well as a number of other accolades.
Mark Hall, Vice President of Marketing, Hyundai Motor Europe, said: "We're offering consumers something truly unique in New Generation i10 - an A-segment car consumers want to buy, not one they feel they have to. It fully meets the rational needs of buyers in the cost-sensitive A-segment, yet delivers levels of comfort, driving pleasure and perceived quality from segments above."
The new i10 comes months after Hyundai UK announced the ix35 Fuel Cell - the world's first zero emissions full production fuel cell.
The new i10 has a redesigned body which is longer, wider and lower than its predecessor. The bodyshell of the car is much bigger and it features a 252 litre trunk,
Another selling point is the company's Five Year Unlimited Mileage Warranty, which will cover any defects occur within the first five years. Breakdown cover is still recommended though.
Copyright Press Association 2013