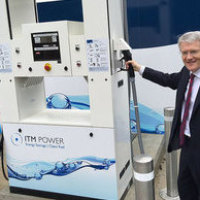 A new hydrogen filling station has been opened in London, making it easier for motorists using the technology to refuel their cars.
ITM Power's new station at the National Physics Laboratory in Teddington was officially opened by Transport Minister Andrew Jones.
The new facility forms part of a planned network of filling stations for zero-emission hydrogen-powered cars.
One is already open in Rotherham, South Yorkshire, near Sheffield-based ITM Power's headquarters. It is planned to open four more around London and by the end of the year the Government hopes that a dozen will have been opened.
The station uses excess electricity from the national grid to generate the electrolysis of water. The process breaks down the water into hydrogen and oxygen with the hydrogen then stored under pressure at the station. Vehicles can be refuelled in just five minutes and can have a driving range of over 300 miles. Their only by-product is pure water vapour.
The new facility will enable motorists with hydrogen cars to fill up at the pump rather than having to have the fuel delivered.
Graham Cooley, ITM Power's chief executive, says the opening will help address the "chicken-and-egg situation" facing the hydrogen-fuelled vehicle sector. He says a lack of customers makes it hard to fund filling stations while selling cars is difficult unless there are plenty of places to refuel them at.
Copyright Press Association 2016. Motoring News articles do not reflect the RAC's views unless clearly stated.