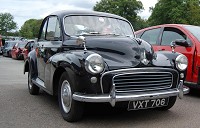 A Hyundai dealership is seeking a new home for a "museum quality" British Classic car after it was traded in under the scrappage scheme.
The 1958 Morris Minor was taken to Gatwick Hyundai to be scrapped in exchange for a £6,000 discount on a Coupe III.
A certificate for destruction had been issued for the car, before the dealer decided it was in too good condition to be scrapped.
The classic car can no longer be put back on the road or exported to be sold, but there is nothing to prevent it being used in static displays.
Hyundai has requested anyone able to give the car a good home should contact them with a proposal by the end of October. The most worthy cause will get to use the car for free.
Proposals should be emailed to morris.minor@hyundai-car.co.uk.
Copyright © Press Association 2009