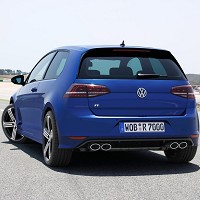 Volkswagen has given its latest Golf a speed boost, revealing it will go from 0 to 62mph in just 4.9 seconds.
The time makes the Golf R fitted with a twin-clutch automatic DSG gearbox as fast off the line as sports cars such as the Ferrari 355, Caterham 7 R300 and a 4.0-litre TVR Cerbera.
Even with a manual gearbox the Volkswagen Golf is still extremely quick off the mark, reaching 62mph in 5.3 seconds, just four seconds slower than the DSG version, but both can go as fast as 155mph before limiters kick in.
The 296bhp performance is better than any production Golf ever made and the power is applied through a fifth-generation part-time four-wheel drive system.
It is generated by a EA888 2.0-litre turbocharged petrol engine similar to the one found in the GTI, but with cylinder head, exhaust valves, valve seats and springs, pistons, injection valves and turbocharger modifications.
The Golf R rides 5mm and 20mm lower than the GTI and regular Golf respectively and has a spring and damper tune all of its own.
It will do around 40mpg when driving normally and the tyres, with standard 18in rims, are in the 225/40 section so running costs remain reasonable when the high performance capabilities are used sparingly.
Breakdown cover is available with all new Volkswagens.
Copyright Press Association 2013