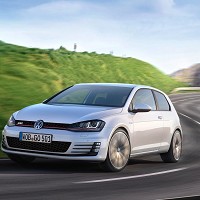 Volkswagen has revealed further details about the new Golf GTI, confirming it will be powered by a 217bhp turbocharged 2.0-litre engine.
An official GTI Performance upgrade will also be on offer, featuring a 227bhp unit among other enhancements, and both versions boast a headline fuel economy rate of 47mpg with 139g/km CO2 emissions.
UK drivers will have the option of a six-speed DSG twin-clutch automatic gearbox, while also benefiting from 18-inch alloy wheels as standard in contrast to the 17-inch alloys used in mainland Europe.
The exterior features red-painted brake callipers, a pair of chrome tailpipes and smoked LED tail lights along with front LED daytime running lights and bi-xenon headlights.
As they start to think about shopping around for acar insurance quote for the new Golf, UK motorists may be keenly awaiting price details from VW.
In the EU its prices start from Û28,350 - but given the very weak pound its UK price is expected to be at around a similar figure in sterling.
Copyright Press Association 2013