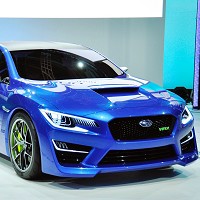 Subaru is planning a dramatic comeback for its 'high-consumption' WRX model, which was shelved for being outdated only this year.
After years of disappointing sales in the UK - largely attributed to it being unsuited to a recession-hit economy - Subaru has formulated a stunning new concept for the next generation of WRX models, which it plans to unveil at the Frankfurt Motor Show.
In a press release accompanying the photograph, Subaru claim the new car will have an "even greater focus on sharp handling".
Rumours have circulated on the internet that the new vehicle will have hybrid drivetrains, but solid details in the approach to the concept's announcement have been scant. The car will definitely use the company's four-wheel drive system and is lower and wider than previous generations, but nothing else is confirmed.
A surprisingly strong UK economy compared with elsewhere in the developed world has prompted Subaru to target the UK car market, although no specific date has yet been issued. When the car hits the market, insurance and breakdown cover deals will be available as ever.
The new WRX concept will receive its global premiere on September 10, when all will be revealed.
Copyright Press Association 2013