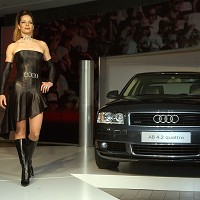 Audi has confirmed the UK pricing for its new generation Audi A8 models, ensuring a course is now set to bring the vehicle on to the UK market.
With the car now available to order, and set to arrive in January 2014, the latest Audi luxury flagship range combines revisions to a number of features, including the weight-optimised, predominantly aluminium Audi Space Frame (ASF) body. There are also a raft of technological advances including new MatrixBeam LED headlights and an upgraded line-up of EU6-compliant engines.
Prices for the new model start at £58,800, with finance andcar insurance packages available.
Audi say the frontal view of the new generation A8 has been sharpened via the bonnet, the single frame grille, the bumper and the lower edge of the headlight units being subtly re-sculpted. The back of the vehicle has also been revised, in particular the design of the LED tail lamps, and the bumper in all models bar the S8 now incorporates two rhomboid tail pipes. Visually, the car has been enhanced by new chrome elements, new high gloss black window surrounds and five new colours.
New headlights employing MatrixBeam Light Emitting Diode (LED) technology sets new benchmarks and also adds to the visual appeal, visibility and active safety of the new generation A8. The 25 individual LEDs per unit can be switched on and off or dimmed individually in the high beam function of these unique headlights.
Copyright Press Association 2013