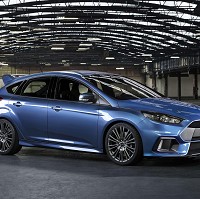 The new version of Ford's Focus RS will be a four-wheel drive model boasting over 320 horsepower, it has been revealed.
Full pricing, specification and performance details have not yet been released, but are set to be made public when the car is unveiled at the Geneva Motor Show in Switzerland, which runs for 11 days from March 5.
Ford has revealed that the new Focus RS will feature a 2.3-litre turbo engine and a six-speed manual gearbox, along with what it describes as dramatic and bold aerodynamic exterior styling features.
Motorists who snap up the new vehicle will find branded sports seats from Recaro and flat-bottomed steering wheels, Ford says. The manufacturer also announced they will be driving on specially-made Michelin tyres on 19-inch lightweight wheels.
The first Focus RS hit the road in 2002 and found its biggest market in the UK with the second generation launched in early 2009.
Copyright Press Association 2015