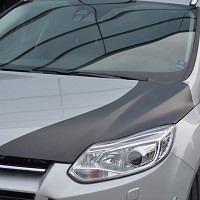 Ford's new super strong carbon fibre bonnet could help to reduce fuel usage.
A prototype of the carbon fibre bonnet has gone on display in Dusseldorf, Germany, at the Composites Europe event.
The new bonnet is 50% lighter than a regular steel part and five times as strong and is constructed from material usually associated with racing vehicles or supercars.
And the stronger material could be beneficial to drivers who are normally forced to claim on their car insurance in the event of an accident.
Construction of Ford Motor Company's carbon fibre bonnet is fast enough to be carried out on a production line thanks to ongoing research involving engineers from the Ford European Research Centre.
This could be a vital move towards using more lightweight materials in the future.
"Reducing a vehicle's weight can deliver major benefits for fuel consumption, but a process for fast and affordable production of carbon fibre automotive parts in large numbers has never been available," said Inga Wehmeyer, advanced materials and processes research engineer at the Ford European Research Centre.
"By partnering with materials experts through the Hightech.NRW research project, Ford is working to develop a solution that supports cost efficient manufacturing of carbon fibre components."
Copyright © Press Association 2012.