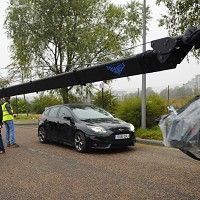 The new Ford Focus ST will take centre stage as the film adaptation of 1970s police drama The Sweeney premieres in London's Leicester Square.
A black Focus ST is the car of choice for Detectives Regan and Carter, played by Ray Winstone and Ben Drew (Plan B), as they attempt to track down some of the most feared criminals in the capital.
And the film's director and co-writer Nick Love, who also directed The Football Factory and The Firm, said it was vital to have Ford involved because the manufacturer played such a major role in the original television show.
"It was important for me to collaborate with Ford on The Sweeney as their legacy with the original TV show is so strong - they're the perfect partner. I like the Ford Focus ST so much, I want one!" he said.
The Focus is pitted against a Jaguar XFR in one of the film's most action-packed scenes as the latter used by the bad guys as a getaway car. And that scene will be recreated at Car-Fest North, which is organised by Chris Evans and takes place this weekend. All profits from the event go to Children in Need and some tickets are still available.
Prices for the Focus ST start at £21,995 for the hatchback and £23,095 for the estate, with five colours including Tangerine Scream orange on offer.
Copyright Press Association 2012