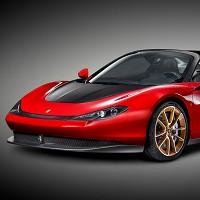 An Italian luxury car manufacturer has unveiled its very limited edition new 597bhp supercar.
The Ferrari Sergio has been named after one of the firm's most iconic designers - the renowned Sergio Pininfarina.
But buying a car this luxurious isn't coming cheap. The asking price is £2 million and only six are being made.
And the bad news for Ferrari fans hoping to be in on this extremely exclusive club is that they have already been pre-sold.
This roofless model is a spin-off from an earlier Ferrari 4.5-litre V8 supercar, its 458 Spider.
Each buyer was invited to Ferrari's Maranello workshop and allowed to customise their car to their own unique specification regarding materials, finishes and hues to create a bespoke product.
The Sergio is a throwback to the famous Ferraris from the 1960s to 1970s, while embracing the latest 21st-century aerodynamics.
Ferrari calls the new model "extremely exclusive".
Copyright Press Association 2014
%20http:/www.rac.co.uk/buying-a-car (buying a car)