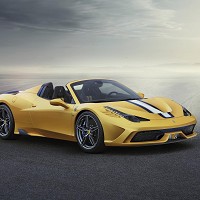 Ferrari has unveiled what it claims to be its most souped-up convertible car yet.
The 458 Speciale A's V8 engine enables it to travel from 0 to 62 mph in only three seconds.
The Italian luxury car manufacturer is celebrating the 458 family's success with this special limited edition model which is restricted to a run of only 499 vehicles.
It is set to be unleashed on the world during the Paris Motor Show activities next month. Motor fans setting their journey planners to the week-long motoring jamboree (October 4-10) won't yet know how much the model will cost.
But whatever they pay, they can expect the 597bhp marquee vehicle to include an individualistic yellow coat, with white and blue central stripe.
Ferrari claims the new model has the fastest, naturally-aspirated, road-going engine yet in the V8 range.
The firm is making every effort to keep the car's weight down to make it even more special.
Copyright Press Association 2014