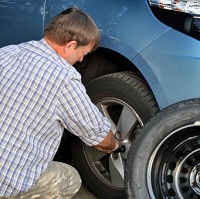 Tyres now have to be labelled according to their fuel efficiency, wet grip and noise performance under a new EU law.
The new law puts tyres in line with the likes of fridge-freezers and washing machines which are governed by similar regulations.
Tyres must be labelled under a new ratings system to show fuel efficiency and wet grip, ranging from A for the most efficient to G for the least efficient.
A figure of decibels also has to be displayed to show the external rolling noise level.
The new rules have generally received a favourable welcome, with the Freight Transport Association saying they represent the biggest change in tyre retailing for more than 50 years.
Michelin, however, said the regulations should go even further and include a durability rating in view of the fact that many vehicles fail MOTs due to tyre tread being below the legal limit of 1.6mm.
Given that tyres are well-known as a key aspect of car maintenance, motorists who are keen to improve their vehicle's fuel efficiency and hopefully cut down on the number of times they need to call on their breakdown cover may be hoping to reap the benefits of the new tyre labelling practice.
The EU-wide rules came into effect on November 1 and do not apply to new cars in showrooms fitted with their original tyres.
Copyright © Press Association 2012