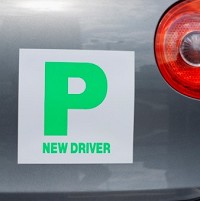 Passing your driving test traditionally means the L-plates can come off your vehicle and be passed on to someone else.
But a new drive to cut the number of novice motorists involved in road accidents means that in future people may have to swap their L-plates for probationary 'P-plates' after acing their exam.
Although drivers aged under 25 make up only an eighth of all motorists on UK roads, according to the Association of British Insurers they account for a third of all accidents.
Government whip Earl Attlee told the House of Lords that the Department for Transport (DfT) is examining the possibility of introducing probationary plates as part of a package of measures.
He said with some young and new drivers more prone to "immaturity and reckless driving" while being easily distracted by others in their car, a ban on them carrying young passengers is also under consideration.
Ministers think improving the safety record of young motorists will also help drive down thecar insurance premiums they have to pay.
Detailed proposals are expected to be published by the DfT in a consultation document in the summer.
Copyright Press Association 2013