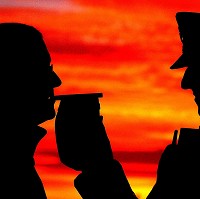 Road safety chiefs have slammed a county council in Ireland for voting to allow people to drink-drive in rural areas, claiming the proposals would drag the country back to the dark ages.
Chief executive of the Road Safety Authority, Noel Brett, attacked Kerry councillors for their "unthinkable" backing to allow special permits for rural dwellers, excusing them from the drink-drive limits.
Mr Brett said: "It is unthinkable that we would go back to a system that sought to increase our drink-drive limit."
While describing the motion as "off the wall", Mr Brett also pointed towards the significant reduction in road deaths over the years, which he claimed was the result of a sea change in attitude towards drink-driving and also has a positive influence on issues such as car insurance premiums.
On the change in attitude, Mr Brett added: "That is what is saving lives and proposals such as this bring us back to a much darker day."
Kerry Council will now ask Justice Minister Alan Shatter to issue licences that would allow rural dwellers to drive home from their nearest pub "after having two or three drinks on little-used roads driving at very low speeds".
Copyright Press Association 2013