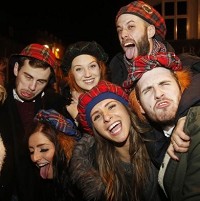 Stricter Scottish drink-drive laws and bad weather are being blamed for a leading pub chain's slow festive sales.
The lower limits came in last month, in line with much of the rest of Europe and lower than south of the Scottish-English border.
Suffolk-based Greene King said that sales rose by 2% across Britain over the festive fortnight compared to the same period last year. But transactions were slower in Scotland than in England as motorists celebrating Hogmanay played safe in line with the stricter limits, the figures suggest.
Most drivers seemingly did not want to risk a fine, penalty points, a ban or higher car insurance premiums.
The new limit stands at 50mg of alcohol in the blood, a 30mg drop on the old one, which still applies elsewhere on the UK's roads.
Rooney Anand, Greene King's chief executive, said the stricter drink-drive laws contributed to "softer trading" throughout Scotland.
Copyright Press Association 2015