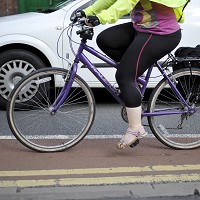 Six cyclists have now been tragically killed on London's roads in less than two weeks.
The latest victim, a male believed to be in his early 60s, died on Monday after a collision with a lorry on Camberwell Road in the south east of the capital.
Emergency services were called to the scene at around midday but the cyclist was pronounced dead when they arrived.
The incident follows a spate of highly-publicised deaths in recent days that have prompted calls for Boris Johnson to address road safety concerns in the city.
So far this year 14 cyclists have died in London - the same number of deaths that were recorded in 2012 and two shy of the 2011 total.
Meanwhile, a man in his 50s was killed on Teesside on Sunday when his bike was involved in a crash between a white Mitsubishi L200 pick-up van and a white Vauxhall Vivaro.
Copyright Press Association 2013