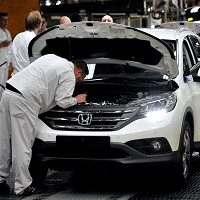 Honda promised fans of its CR-V model a more refined yet dynamic drive, as it unveiled a host of enhancements to the compact SUV.
The CR-V is a strong favourite in Europe, with sales topping 750,000 since its launch.
Now in its fourth generation, Honda is hoping the motor's appeal will be further broadened by the added enhancements, helping the company to beat its sales figure of almost 50,000 models in Europe last year.
The changes have been introduced to coincide with Honda's release of more sporty vehicles, with the latest CR-V featuring a new diesel engine and nine-speed automatic transmission, which the company says will deliver an unrivalled power-to-consumption ratio.
Other new features include enhanced suspension, advanced safety technology and a new infotainment system to keep motorists and their passengers entertained during any long drives.
The new-look compact SUV will be available this spring.
Copyright Press Association 2015