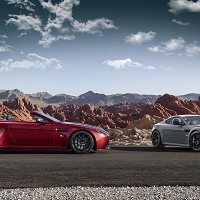 Aston Martin has announced a new convertible with a powerful V12 engine under the bonnet.
Meanwhile, Rolls-Royce has also announced a new open-top model, although enthusiasts interested in owning one will have to fork out well over £200,000.
Aston Martin's V12 Vantage S Roadster is set to be unveiled at the Pebble Beach Auto Week event in California in mid-August.
The convertible is said to boast a top speed of 201mph and can hit 62mph from a standing start in just 3.9 seconds.
The new Rolls-Royce open-top is set to hit the market in 2016 and is expected to have the same chassis as the manufacturer's Wraith and Ghost models.
The company, which has seen sales rise by 33% during the first six months of 2014, will build the car at its Goodwood plant, boosting job security for its workers.
Rolls says the new model will sit under the Phantom Drophead in its range.
Copyright Press Association 2014