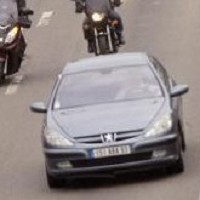 In a bid to fight stolen "car cloning", the country's car crime police chief has urged new checks on used vehicles.
"Well organised" criminal gangs are putting 0 number plates on stolen cars with 0 papers and selling them to innocent buyers, Det Chief Insp Mark Hooper said.
Mr Hooper leads the Vehicle Crime Intelligence Service for the Association of Chief Police Officers. He has urged that the identities of customers, sellers and cars be verified through independent checks to ensure they are genuine.
It was the agency's duty to fix the weaknesses in the current market so criminals do not exploit the problems, he told the BBC.
He offered an option similar to a system in France, where buyers and sellers must prove to a local registration authority that their documentation is correct.
He added: "It could be anything from a superficial identity check... some documents that are produced which would deter all but the most confident of criminals.
"Or it could range to a full mechanical check of the vehicle."
His unit is discussing potential new security systems with the UK's vehicle licensing authority, the DVLA.
Around 75,000 cars are stolen annually in the UK and not found.
Copyright © Press Association 2009