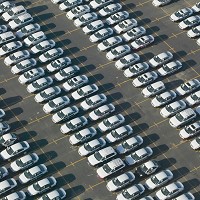 A number of experts have claimed new cars will be connected to the internet as early as next year.
According to information company IHS, millions of pounds have already been invested on developing vehicles with technology that allows drivers to use the internet using only voice commands.
Experts have said the internet could be used by drivers for a variety of things including finding free parking spaces, access restaurant reviews, and be given warning of when traffic lights are about to change.
Motorists may also welcome the news as driving with a hand-held mobile device was made illegal 10 years ago.
Jack Bergquist, from IHS, told the BBC that some of the bigger car brands could already have the technology in place in new cars as early as 2014.
Global technologist for connected services and solutions at Ford, John Ellis, said there would be concerns over safety. He stated that motorists could potentially get distracted updating their social media pages and forget they were driving.
But Mr Bergquist said : "'I think it is actually a good thing. You can't stop people from doing this but car manufacturers are able to create a system that is a million times safer than people updating Facebook on a phone in their laps."
Copyright Press Association 2013