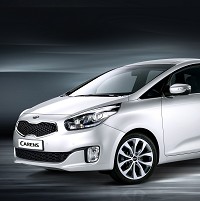 Following on from the teaser images of its new Carens, Kia has issued the first production images and details of its next generation model ahead of the Paris Motor Show.
Spring next year will see the Carens on sale in the UK, and the new model is described as a step change in comparison to the dated-looking previous model in the Kia range.
It is hoped that a new group of consumers will be attracted to Kia showrooms in the UK by the third-generation Carens, which will have a seven-seat version available, and is also likely to lead to the larger Sedona MPV being dropped from the Kia range.
Kia UK managing director, Michael Cole, commented recently that design boss Peter Schreyer is still "obsessed" with creating a sports car for the brand, but a production version would not happen until the core range was finished. Though he did admit that the Carens helps to complete Kia's core modern product range.
A rear-wheel drive MX-5 rival is also likely to be launched by the brand, according to Paul Philpott, Kia Motors UK and Ireland president and CEO.
Copyright Press Association 2012