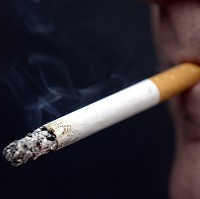 It is now illegal to smoke in cars with someone under the age of 18 present, after the ban came into force across England today.
Both the driver and the smoker could be handed a £50 fixed penalty if caught doing so.
But there is likely to be a grace period, with police and local authorities believed to favour educating drivers rather than enforcement action to begin with.
A National Police Chiefs' Council spokeswoman says forces will be following guidance from the Chartered Institute of Environmental Health by taking an educational, advisory and non-confrontational approach.
However, individual offences that justify enforcement action will be reported to local authorities.
The ban comes as a new study reveals the harm second-hand smoke poses to youngsters.
Newcastle University's Transport Operations Research Group found even driving with the windows open while smoking, levels of dangerous chemicals - known as PM2.5 - were more than 100 times higher than recommended safety guidelines.
With windows closed and the fans on, levels were more than 200 times the safe limits. In fact, levels of poisonous carbon monoxide were two to three times worse than on a busy road at rush hour.
The new law applies to private vehicles enclosed wholly or partly by a roof, so doesn't apply to convertibles with the top down. It also applies whether the car is moving or stationary, but does not apply to a 17-year-old driving on their own, or e-cigarettes.
Professor Dame Sally Davies, Chief Medical Officer for England, has described the law as "landmark" legislation.
She claims it will help protect children from second-smoke and hopefully encourage all smokers, particularly drivers and parents, to take their first steps towards quitting.
Copyright Press Association 2015