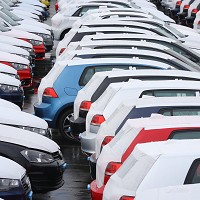 British drivers' tastes for the latest, fuel-efficient vehicles helped new car sales increase for the 28th month in a row in June, industry figures reveal.
According to the Society of Motor Manufacturers and Traders (SMMT) a total of 228,291 new cars were registered last month, 6.2% more than in the same month last year.
It means more than 1.28 million cars have been sold at the halfway point of 2014, a tenth more than between January and the end of June in 2013.
The Ford Fiesta continues to be the best seller, followed by the Vauxhall Corsa, Ford Focus, Volkswagen Golf and Vauxhall Astra.
The SMMT says 23,337 cars fuelled by alternative means have been sold in the first six months of the year - more than double (51.3%) the same point in 2013.
It now predicts that the number of new car registrations in the whole of 2014 will top 2.4 million; a figure 6% higher than last year's total.
The improving economy has help the car industry record particularly strong figures in the first half of the year, SMMT chief executive Mike Hawes says.
He says an excellent March for the industry preceded an even better than expected three-month period and the increasing fuel efficiency of vehicles is having a positive effect on sales.
Copyright Press Association 2014