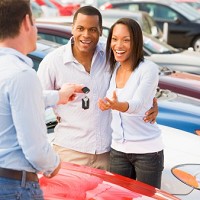 New car sales are racing ahead and continuing to buck the economic downturn, according to the latest figures.
April's 163,357 new registrations represent a 14.8% increase on the same time last year and the 14th successive monthly rise, the Society of Motor Manufacturers and Traders (SMMT ) said.
Last month's figure brought the total of new car sales for 2013 to 768,555 - an 8.9% rise on the January-April total last year.
Private sales are up by nearly a third (over 32%) last month and have increased more than 15% so far this year.
SMMT interim chief executive Mike Baunton described the UK's new car market's continued performance as "surprisingly strong".
Mr Baunton said the UK continues to outperform the eurozone as consumer confidence, regular purchase cycles and attractive finance deals continue to make new car buying favourable.
Abreakdown of the best-selling models in April shows the following league table in order of popularity:
1. Ford Fiesta
2. Vauxhall Corsa
3. Ford Focus
4. Volkswagen Golf
5. Vauxhall Astra
6. Nissan Qashqai
7. Volkswagen Polo
8. Fiat 500
9. Peugeot 208
10.Audi A3
Copyright © Press Association 2013