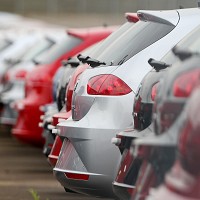 There was another rise in new car sales in June, according to new data.
An increase of more than 13% to just under 215,000 heralded a convincing 16th consecutive month of growth, data from the Society of Motor Manufacturers and Traders showed.
Sales of private cars were up by more than 20% last month compared to June last year, while new car registrations for the year passed the one million mark after a 10% increase compared to the same period in 2012.
More motorists using ajourney planner to work out their routes will also have been able to reap the benefits of cheaper fuel costs, it seems, as the figures also reveal a rise in more fuel-efficient cars.
Average new car CO2 emissions were down by 3.7% on a year ago, the figures suggest.
SMMT interim chief executive Mike Baunton said the new data was "a clear indicator that manufacturers and dealers are delivering desirable new products with tangible cost savings from the latest fuel-efficient technology coupled to a wide variety of competitive finance offers".
Copyright © Press Association 2013