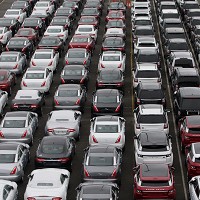 New car sales in the UK outperformed expectations in March - the first month of the new 13-plate.
Figures from the Society of Motor Manufacturers and Traders (SMMT) revealed there were 394,806 new registrations last month, up 5.9% year-on-year, as motorists were lured by the arrival of the "13" number plates.
It meant sales of 605,198 during the first quarter of this year, an increase of 7.4% on the same period in 2012.
Mike Baunton, SMMT interim chief executive, described the rise in sales as an encouraging sign of returning consumer confidence.
He said motorists couldn't wait to get their hands on new models and the latest technologies, as registrations of petrol-fuelled cars surpassed diesels between January and March.
Manufacturers tend to throw in extras on top of new car purchases, such as free car insurance , making them even more attractive to buyers.
The Ford Fiesta was the best-selling model in March, followed closely by the Vauxhall Corsa and the Ford Focus.
Although new car sales increased for the 13th consecutive month in March, the total for the first quarter of this year was still more than 12% below the figure for the same period in 2007.
Copyright Press Association 2013