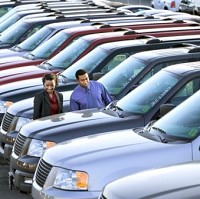 New car sales in Britain soared to 142,322 last month, up by 3.3% on the same month of last year, according to official figures released by the Society of Motor Manufacturers and Traders (SMMT).
The increase was fuelled by a 15% rise in private sales compared with April 2011, which pushed the new car sales total beyond the 700,000 mark for the year to date.
New car sales for the first four months of 2012 rose to a 705,878 total last month, marking a 1.4% rise over the same period last year.
"A strong April new car market has raised confidence across the UK motor industry," said the SMMT's chief executive, Paul Everitt.
"We are seeing a steady increase in consumer confidence with growth in private demand, boosted by the arrival of a raft of new products," he said.
"We have increased our 2012 full-year forecast to 1.95 million units, putting the market marginally ahead of 2011, indicating a period of relative stability."
Copyright Press Association 2012