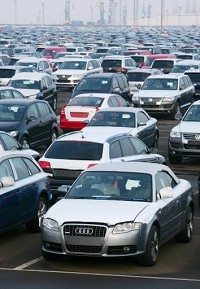 The Government's car-scrappage scheme continued to boost the motor industry as new car sales in August rose 6% on the same month last year.
It is the second successive month that new car sales have increased, with a total of 67,006 new cars registered in August 2009, according to the Society of Motor Manufacturers and Traders (SMMT). The previous set of results for July showed the first year-on-year increase for 15 months.
"The scrappage incentive scheme is having a positive impact but with consumer and business confidence still fragile, there remain significant risks ahead. It is essential that these early signs of recovery are sustained into 2010," said SMMT chief executive Paul Everitt.
However, new car sales are still down 21.5% for the first eight months of 2009, compared with the January-August 2008 period. The 2009 total is still more than 10,500 below the August 2007 figure and 15% off the August average from 1999-2008.
Private sales increased by 50.5% last month, although August 2008 was a weak month, while the mini and supermini sector did well. Yet the real test will come from September's figures, one of the two new number-plate months, as August typically only accounts for 3.3% of the total year's sales.
Copyright © Press Association 2009