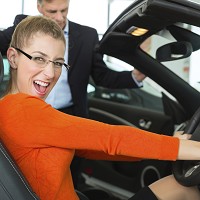 Soaring private purchases helped new car sales hit a six-year high for the month of May, according to industry data.
Last month's total of 180,111 new registrations is 11% higher than the figure for May 2012 and the 84,000 private sales more than a fifth higher (20.9%) than the same month last year, the Society of Motor Manufacturers and Traders (SMMT) reveals.
Abreakdown of new car registration figures for 2013 so far shows sales creeping ever closer to a million, with the 948,666 figure representing a 9.3% lift on the performance of the market in the first five months of 2012.
The May effort is a real milestone for the industry, in the opinion of SMMT interim chief executive Mike Baunton, as private sales are now higher than they were before the recession, but the overall registration figure remains 3% lower than in May 2007.
Mr Baunton said UK new car sales rose for the 15th month in a row in May but manufacturers are likely to remain cautious about their prospects for the rest of 2013 because of the continuing economic uncertainty in Europe and beyond.
The SMMT said customers returning to cycles of buying new cars could be one of the main reasons for the improved market performance as it is thought there are fewer used cars available due to poor sales of new vehicles during the downturn.
Copyright Press Association 2013