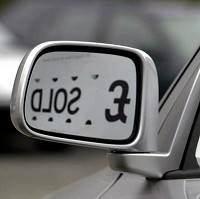 More new cars were sold in the UK in 2013 than any year since 2007, according to the Society of Motor Manufacturers and Traders.
The SMMT has revealed 2,264,737 new cars were registered last year - 10.8% more than in 2012 and more than each of the previous five years.
Just under 153,000 new cars were sold last month, the 22nd consecutive month of improving figures and just under a quarter higher than the previous December.
Around 600 more cars were registered every day on average in 2013 than in 2012, while the 1.07 million private deals last year represented a 15.6% increase on those in the previous 12 months.
The share of the market for petrol cars increased from 47.8% in 2012 to 48.8% last year, while diesel's fell from 50.8% to 49.8% respectively.
Despite this, sales of both petrol and diesel cars went up in 2013. There was little change to the 1.4% share of the market in electric and other alternatively fuelled vehicles.
RAC Cars chairman Rupert Keane said: "It's encouraging to see the new car market ending 2013 on such a high and it has to be a positive indicator for broader economic recovery and consumer confidence in the UK.
"It is also heartening that a significant proportion were produced in the UK.
"Technological advances have played a huge role in driving new car sales to a six year high but many motorists have also resisted the temptation to invest in a newer model during the period of economic uncertainty. This has also had a positive effect on the used car market.
"We have seen a significant increase in the volume, quality and range of used vehicles coming to the market via our dealer network which can be accessed via ourraccars.co.uk website where we currently have over 90,000 vehicles available."
Copyright Press Association 2014