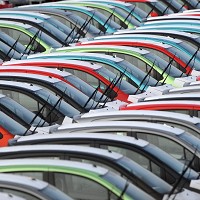 Sales of new cars are on course for their best year in a decade, according to new figures.
There were 172,907 new registrations in July - up 6.6% on the same figure from July 2013, according to the Society of Motor Manufacturers and Traders (SMMT).
This takes the total so far this year up to 1,460,173 - a 10% increase on January-July sales last year.
The boost has prompted the SMMT to dial up its prediction for sales for the whole of the year to as high as 2.45 million.
It could mean a rise of as much as 8.1% on 2013 as a whole, and would signal the figures' biggest upward journey since 2004.
Mike Hawes, chief executive of the SMMT, said that July marked the 29th month in a row that the new car market in the UK had experienced growth.
He added that while the SMMT has upgraded its forecast accordingly, demand is beginning to stabilise.
The Ford Fiesta topped the charts for July's best-selling models, followed by the Ford Focus and the Vauxhall Corsa.
The Audi A3 and BMW 3 Series were also in the top 10, at seventh and ninth respectively, while the Mini was the 10th best-selling car over the month.
Copyright Press Association 2014