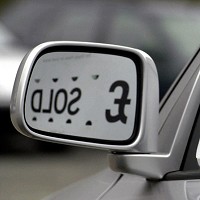 More people are buying new cars in 2012, with 1.62 million sales so far.
The latest data from the Society of Motor Manufacturers and Traders (SMMT) shows there were almost 360,000 new cars registered in September as motorists proved keen to own the new 62 number plate. The figure was 8.2% higher than the same period last year with overall sales for 2012 rising by 4.3%.
Paul Everitt, chief executive of the SMMT, said that sales in September had been better than predicted with 26,112 more vehicles being sold than had been expected. And he said although market conditions continued to be tough, things were starting to pick up with drivers keen to look at new vehicles and take advantage of cutting-edge technology to reduce fuel consumption.
But it will take a long time for the market to return to where it was before the economic crisis hit. Five years ago 1.94 million cars were registered in the first nine months of the year.
The most popular type of vehicles being bought last month were small and dual purpose cars with the Ford Fiesta and Vauxhall Corsa coming out in front as the most sold models.
Copyright Press Association 2012