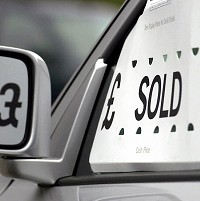 New car sales continue to race ahead - with 2013 registrations already ecplipsing last year's total with a month of the year remaining.
November saw 159,581 new cars registered, a 7% hike on the previous November's total, according to the Society of Motor Manufacturers and Traders (SMMT).
The year so-far total lies at 2,111,819, almost 10% up on the figure for the same 11 months over 2012 and well in excess of 2012's final tally of 2.04 million sales.
Sales could reach as high as 2.25 million this year, making it the best year for new registrations since the pre-credit crunch term of 2007, which racked up 2.4 million sales.
Mike Hawes, the SMMT's chief executive said that the figures mark a "tremendous success" for the industry following "buoyant" consumer confidence and ground-breaking new products. He added that with the UK's economic outlook becoming sunnier, the strong demand for new cars is expected to continue into 2014.
The best selling car was the evergreen Ford Fiesta, followed by the Ford Focus and the Vauxhall Astra and Corsa in third and fourth respectively.
The Volkswagen Golf and the Vauxhall Insignia were next, with the top 10 filled out by the Nissan Qashqai, Fiat 500, the BMW 3 Series and the Nissan Juke.
Alternatively-fuelled car sales are up 16.4% this year so far, but account for only 1.4% of the market for new motors.
Copyright Press Association 2013