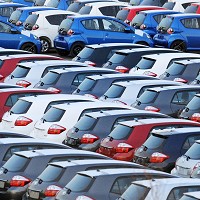 The month of July saw the 17th successive monthly increase in new car sales, as the UK market continues to race ahead.
A 12.7% rise was seen on the July 2012 figure, as a total of 162,228 new cars were registered in July 2013, the Society of Motor Manufacturers and Traders (SMMT) said. This took the year-so-far total to 1,325,851, a 10.3% increase on the January-July 2012 figure.
As a result of the strong sales in recent months, the SMMT has revised its year-end figure for 2013. It now predicts annual sales to reach 2.22 million, which would mean an 8% increase on 2012 and a best annual figure since 2007.
The SMMT's interim chief executive Mike Baunton put the continuing rise in new car business down to consumer confidence. Mr Baunton said: "Now we have evidence of consistent growth, we have raised our forecast for 2013 new car registrations. Recently, we've seen a range of economic indicators point to improving conditions and our raised sales forecast emphasises how positively we view the rest of 2013."
Ford provided the best-selling models in July 2013, with the Fiesta and Focus sitting in the top two positions, closely followed by the Vauxhall Astra and Volkswagen Golf. Also in the top ten were the Nissan Qashqai, the BMW 3 Series and the Fiat 500.
Copyright Press Association 2013