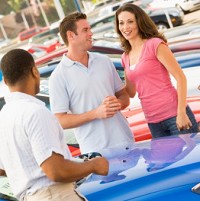 Motorists are finding it more difficult to extract discounts at new car showrooms than a year ago, What Car? suggests.
On average, drivers buying a car could expect to knock an extra £204 off the price of a vehicle this time last year, compared with now.
This means that the typical discount has fallen to £2,360 from £2,564, according to What Car? magazine.
It found that whereas last year, buyers could knock a typical 10.14% off a new car's price, this year that figure has gone down to 8.9%.
The report's author has advised drivers not to overlook the rewards of shopping around.
The price hikes have come despite the UK's rate of inflation dropping under zero in May.
Even so, researchers found buyers could still knock over a fifth off the price of certain models. Estate cars (10.5%), executive models (11.14%) and luxury makes (12.67%) are the ones most likely to reward bartering with a healthy discount.
Jim Holder, editor of What Car?, says the latest numbers give the surest proof yet that big discounts are on the wane in the booming car industry.
Mr Holder explained that car dealers know they don't have to budge during this time of high demand and robust consumer optimism.
The drop in average discounts to £2,360 from £2,564 may not appear to be a lot, Mr Holden said. But he added that things had been moving in this direction over the past few months and advised customers to become used to the trend.
Mr Holder urges new car buyers to not only shop around, but to continue trying to thrash out the best deal possible. By this, he means add-ons and extras as well as cash discounts.
Copyright Press Association 2015