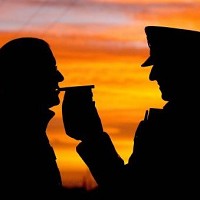 Thousands of drivers are still risking their own safety and the lives of other road users by having a drink before getting behind the wheel, new figures show.
Road safety charity Brake has renewed its call for motorists to cut out drink-driving altogether, after more than 4,100 failed or refused breath tests during a month-long campaign.
Across the country during June nearly 63,700 breath tests were administered by the Association of Chief Police Officers campaign with 6.5% of them either failed or refused.
That is 1.3% up on last year with the figures also showing that - with a failure rate of 7.5% - drivers aged under 25 are the worst offenders.
Brake's deputy chief executive, Julie Townsend, says it's frustrating that so many motorists are still drink-driving despite the deadly dangers being so well publicised.
The charity is calling on people to ensure they're safe to get behind the wheel by pledging to avoid driving after drinking any alcohol at all.
And it wants that to be backed up by the Government introducing a zero-tolerance drink drive limit and giving more priority to traffic policing.
Copyright Press Association 2014