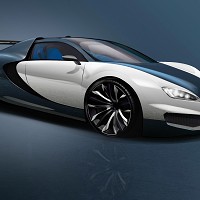 Motoring journalists think the successor to the world's quickest luxury car will be even faster - but they fear there isn't a test track in the world with straights long enough to prove it.
Autocar magazine claims the replacement for the Bugatti Veyron will generate 1,500 horsepower and drive as fast as 286mph.
It will, however, need longer straights and as yet there are no tyres that are both road legal or capable of withstanding such a speed safely.
The Veyron's tyres cost £25,000 a set and are only good for 2,500 miles. The rubber for the new concept car's tyres would have to be even more advanced to cope with ultra high speeds and they will almost certainly cost more.
It is said that many rich and famous Veyron owners sold their cars as they were far too expensive to run and it is thought that Formula 1 driver Jenson Button was one of them.
Autocar says Bugatti has 15 Veyrons that no one has bought yet and its latest car is scheduled to be ready for sale in 2017.
Copyright Press Association 2014