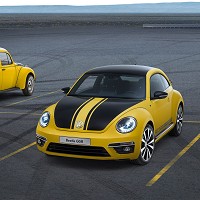 Car lovers looking to get their hands on the limited edition Beetle GSR must be quick as only 100 models will make it to UK showrooms.
Volkswagen is due to begin production later this year, with the distinctive black and yellow colour scheme a throwback to the original Beetle 'Yellow/Black Racer' of 1963.
The German automobile manufacturer believes the model could quickly become a collectors' item as it has limited global production to just 3,500, following in the footsteps of the Yellow/Black racer which is one of the most sought-after and valuable original Beetles in the world.
Also available in grey and black for the more modern road user, the Beetle GSR will be powered by a 207bhp turbocharged 2.0-litre petrol engine.
Every car will bear its own unique number on its seats, from 1 to 3,500, giving even more of a rare feel to it, while generic GSR logos will be emblazoned on items like the gear stick.
Featuring 19-inch alloy wheels with wide 235-section tyres, as well as R-Line bodywork and trim accessories, the new GSR will have the racy look inspired by its grandfather.
Yellow detailing is smattered throughout the cabin, while buyers have the option of a six-speed DSG twin-clutch automatic gearbox as opposed to the manual.
Prices are yet to be confirmed, but they will no doubt be a significant jump up above the top of the current Beetle price range, so if you are one of the lucky few to buy one be sure to save money by shopping around for things likecar insurance .
Copyright Press Association 2013