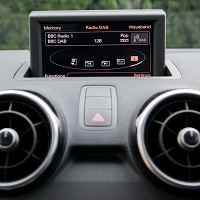 Digital radio will be offered as standard in almost all Audi cars in the 2014 model year.
The car maker confirmed that every Audi from the A1 upwards, apart from the R8 and TT, will be equipped with DAB radio capability.
DAB promises clearer audio as well as the names of tracks and even broadcasters being displayed on the car's media interface screen.
The R8 and TT will receive the upgrade at some point in the future but Audi has not yet specified when that will be.
Martin Sander, director of Audi UK, said digital radio simply offers a better experience thanks to a wider choice of stations and more detailed information as well as its crisper signal.
The car maker will be hoping the addition of digital radio is an added factor to tempt would-be buyers into getting a car insurance quote for an Audi and switching to the brand when they next venture into the new car market.
Its announcement comes at a time when DAB itself is undergoing an upgrade following a deal between the Government, the BBC and local commercial broadcasters.
New and existing stations are set to join the digital network as 14 new DAB transmitters are being built across the country.
Copyright Press Association 2013